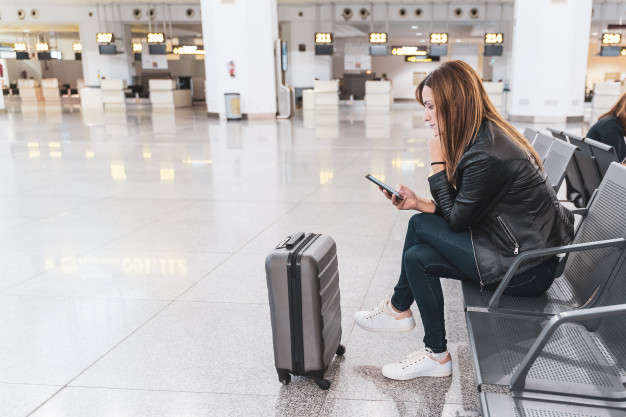 If you start your new adventure as a student in Madrid, whether as an Erasmus or a regular university student, and you arrive at Adolfo Suarez Madrid Barajas; You may be wondering what are the best ways to get to the center of Madrid. Well, here you have them:
If you want to go by public transport. You have several options: Metro, train and bus. Let's see which one suits you best.
If you take the metro from the airport there is a supplement (€ 5), so this option is not the most recommended. BUT if you have already purchased your youth subscription card, ordering it online, (€ 20 / month) you will not have to pay anything, only the € 20 per month, which you will have to pay sooner or later.
This option takes you to Nuevos Ministerios station, from which you can take metro lines 10 and 6, and the cercanias train that takes you to the outskirts of Madrid.
Another option that not many people know is to take the bus 200. This costs € 1.5 or you can also go up with your youth card paying € 20 / month.
In this way, if you don't have the young card yet, you will save a lot of money. It will take you to the Avenida de América station where the metro lines 4, 6, 7 and 9. are located.
The last option is to take a Cercanias train , although this option only departs from terminal 4 of the airport.
It is also free with your youth subscription card (€ 20 / month), and if you don't have it, it would cost you € 2.6. This train takes you to the stations of Príncipe Pío, Atocha, Chamartín, Nuevos Ministerios and Méndez Álvaro, among others.
So depending on the price and the area you go to, one option or another will be more convenient for you. Here you have the Madrid metro map .
Among the private transport options, we have: Taxi, Cabify and Uber.
The taxi fare to the center of Madrid is fixed, it is € 30. You have to make sure that your destination is within the M-30 to benefit from this rate. If your destination is another, we leave you the official page to consult more rates, but in any case the rates are fixed and do not depend on demand.
Uber and Cabify , however, have variable prices according to demand. But, in general, it can be much cheaper than the taxi, for about € 20 you can be in the center of Madrid. Everything will depend on when you arrive, if it is a time of high demand it can be more expensive than the taxi, although it is not usual.
And, as usual, we recommend that you order your Menaki Box for have everything you need when you arrive at your new home: bed sheets, kitchen utensils, towels …
We hope this post has been useful to you and you can have the best university experience.
Have fun!
Menaki Team